Want to see some great small business advertising ideas that won't break the bank and will get people talking? We have put together some guerrilla-style promotion ideas that will make you very happy if you don't have the money for mass mailers, expensive radio slots, magazine ads, or other pricey business advertisements.
We feel that small business advertising is often about being imaginative and daring rather than just thinking in traditional marketing terms. With that in mind, here are 5 deceptively simple ideas you might want to try yourself:
1. Create Window Displays that Can't be Ignored
If you're a store owner, you can bring people into your store by doing something graphically interesting and imaginative. There's no reason why you can't mimic the kind of attention-grabbing window displays that all those cool stores in London, New York, and San Francisco do (just think smaller scale!). In fact, someone doing something crazy and original in a small town, mall or strip mall,will most definitely stand out and garner interest. Become the talk-of-the-town by doing something artistic and creative.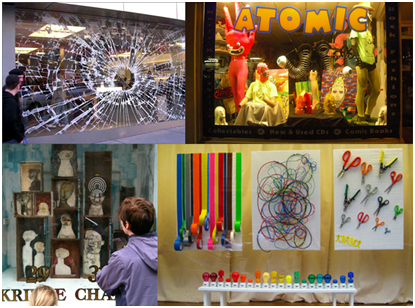 A selection of small business stores that have used window clings, artwork, and their own products in unusual ways to dress their windows
2. Yard Signs for Your Business
Use your own yard to advertise your business. Instead of the typical sale signs and political rantings, your backyard space could be used to advertise your business in an unexpected way. It's a much more useful and intelligent way to use yard signs and you may be surprised at how effective it can be, especially if you make your sign funny or extra-creative.
The other great thing about yard signs is that they're so easily affordable!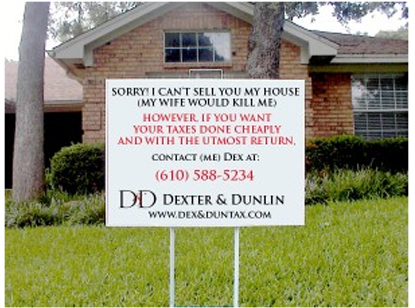 Create a funny sign to advertise your business – take advantage of all that advertising real estate in your backyard.
3. Door Hangers for Tradeshow Hotels
Tradeshows represent a captive and target audience for your product or businesses. Getting a booth is great but that's not the only way to get someone's attention during a show. Why not print some door hangers and target the hotel rooms of tradeshow attendees with your promotion? Whether or not you have a tradeshow booth, you can use this opportunity for some sneaky promotions!
This is also a smart way for local restaurants to can target hungry tradeshow attendees during a big show.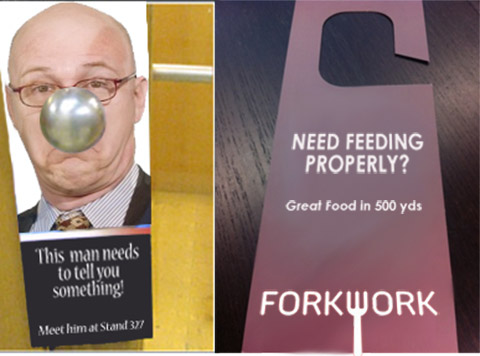 Make your message clever or funny to get people to notice your business.
4. Project Your Logo for All to See
Use your office wall, or find someone who'll let you use their wall, to project your logo and business information. You may think that this is really expensive to do but it isn't. You can pick up a secondhand mini-projector for less than $200 and project photo and/or design files created on your computer or laptop.
It's amazingly effective for getting your brand recognized and talked about and is perfect for nightclubs, bars, restaurants, theaters, and other businesses that do most of their trade at night.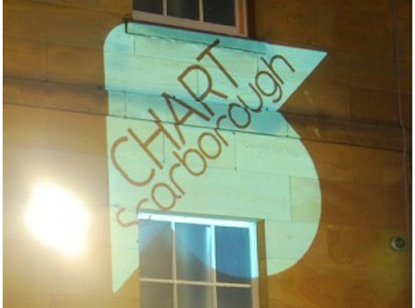 A projected logo at night really stands out and makes people notice.
5. Get on the Vine Bandwagon
Hopefully you've heard of Vine by now! For those who have been hiding under a rock for the past year, Vine is a new social media phenomenon for smart devices (also available on Google Play for your desktop). Developed to utilize smart phone video, the application shares 6 second videos with the world. It also introduces the notion of "guerrilla advertising" filmmaking without the hassle of a video recorder. Everyone from Coca-Cola to your local coffee shop uses it to create short and sweet videos in hopes of going viral.
The idea of Vine is to make something weird, something funny, but more importantly, something sharable. The beauty of Vine is that it costs nothing, requires nothing more than a smart device, and offers the possibility of being shared by millions. What have you got to lose?
Go to this link to download the free vine app: https://vine.co/
Vine that Tropicana created for Valentines Day – odd, silly, and shared by millions!
Please follow and like us: