We have an absolute bumper crop of Thanksgiving cards, invitations, flyers, and Thanksgiving greeting cards, to share with you this holiday season – a true horn of plenty when it comes to FREE Photoshop and Illustrator downloads for you to grab and use in whatever way you wish. The designs, created by myself and our talented design team, range from fun and cutesy turkey designs to thanksgiving tattoo inspired designs; there's something for all design tastes in this selection of Thanksgiving cards in vector formats and layered Photoshop files.
So please, fill your Thanksgiving table with a cornucopia of files for your event, party, restaurant event, or personal promotions.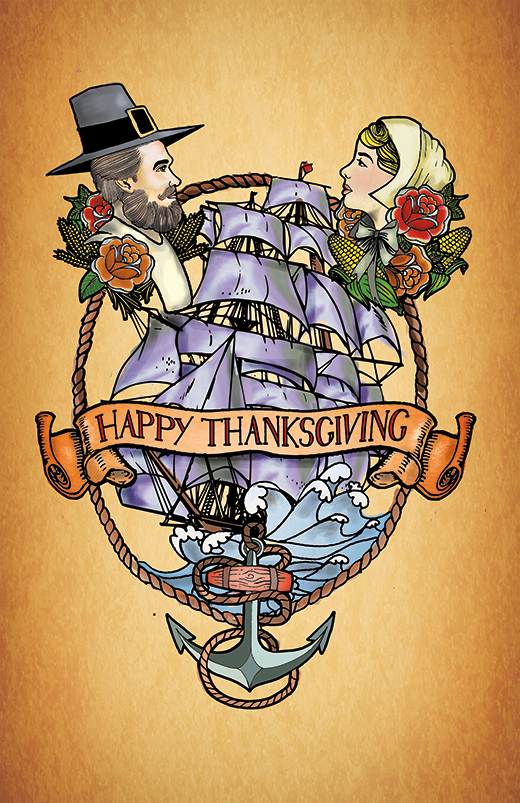 A super-rad historically themed  Photoshop template with a tattoo vibe for a 5.5″ x 8.5″ sized greeting card that you can leave as is, or add your own text  and color too.

An intricately composed vector 5″x7″ Thanksgiving greeting card that has both colorful front and back designs.

A cool fontastic  5″x7″ Thanksgiving greeting card that has both front and back designs.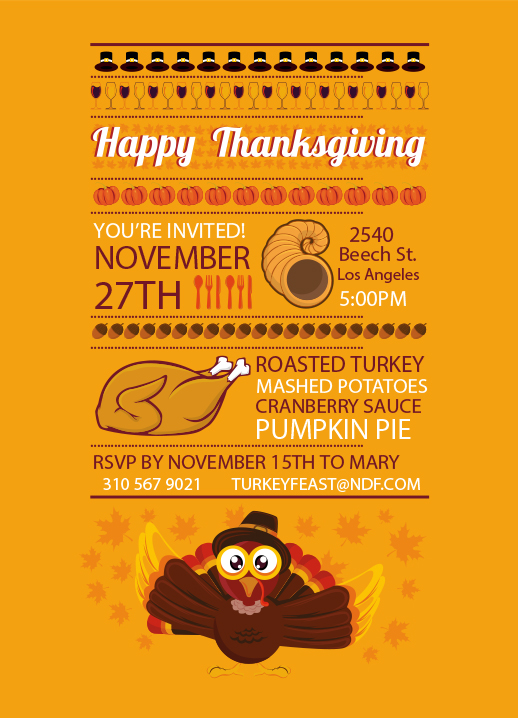 A great 11″x 8.5″ Thanksgiving dinner invitation to add your own menu details too, complete with cool vectors and colorful turkey.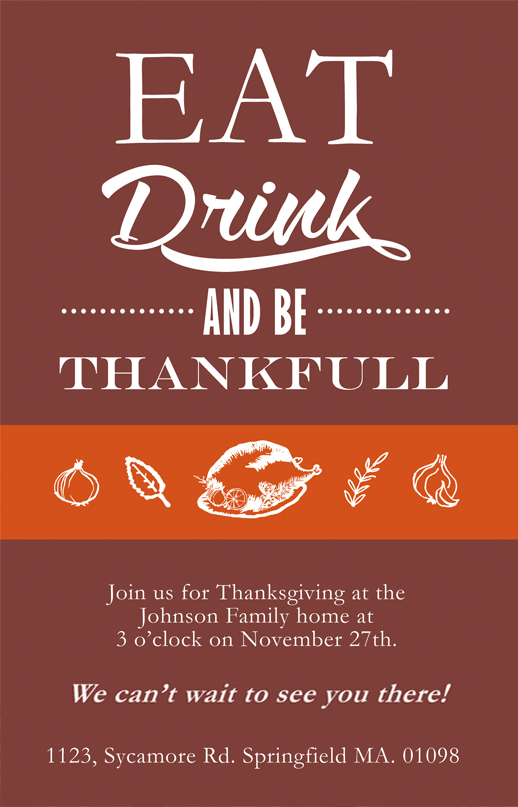 A modern and elegant Thanksgiving invitation design for a 5.5″ x 8.5″ card size  that you can add your own message and details too.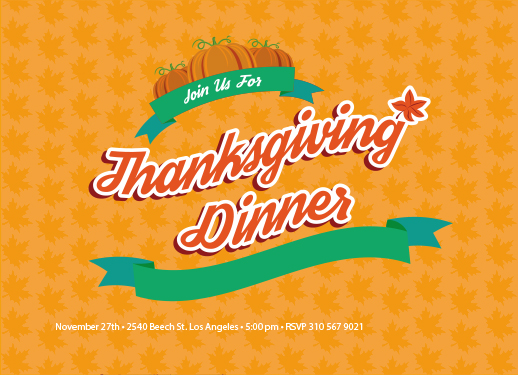 A clean and simple 5″x 7″ vector design for your Thanksgiving dinner invitations to add your own copy too.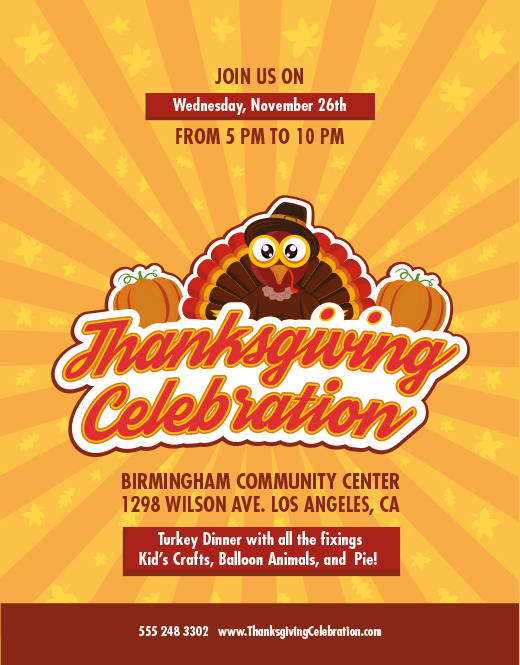 An 11″x 8.5″ Thanksgiving flyer design with a colorful turkey and pumpkin design.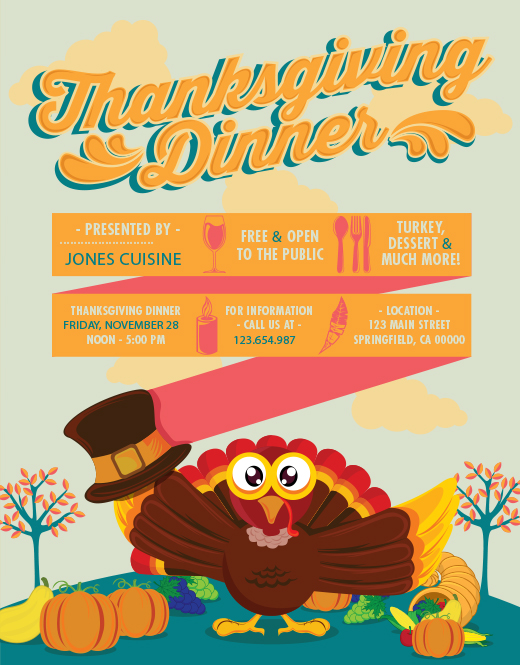 An 11″x 8.5″ Thanksgiving flyer design with a vector harvest scene- add your own copy and elements.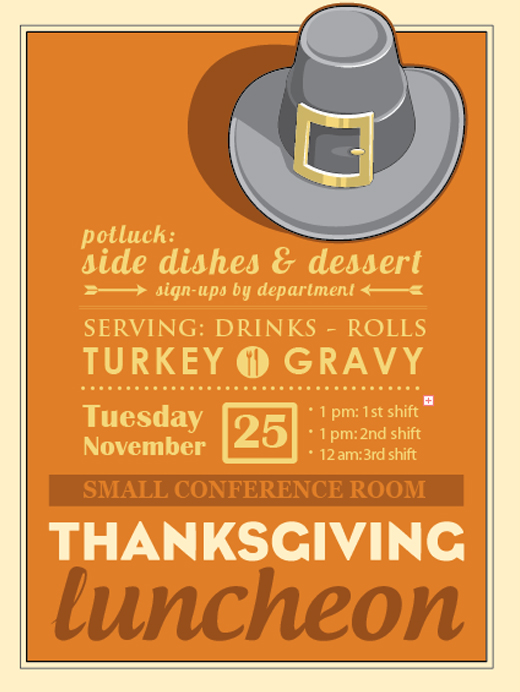 An 18'x24′ Thanksgiving poster design that can used as a poster or resized as a large flyer or other large format product – a super -modern and stylish design that allows for a lot of copy. The common fonts used in this file include:
– Lobster
– Trajan Pro
– Century Gothic
– Georgia
– Brittanic Bold
– Myriad Pro
………………………………………………………………………………………………………..
Looking for Die Cut Invitations and Other Stand Out Thanksgiving Promotions?
If you're looking for something more than just a folded card or flyer this Thanksgiving season, we have the answer right here! At NextDayFlyers, we provide a series of special holiday die cuts for you to use to add fun and excitement to your prints. Use them for coupon, gift certificate, and other original prints.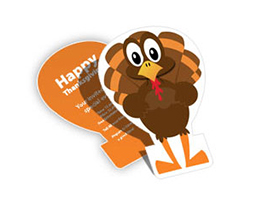 Turkey Holiday Die Cuts
We have online templates and downloadable start files to help you create your Turkey die cut.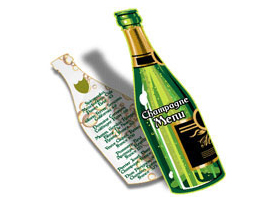 Champagne Holiday Die Cuts
We have  various online designs and downloadable start files for your extra-special New Year and Holiday Prints
When your Thanksgiving cards and invitations are ready to print, head on over to NextDayFlyers.com and get them quality printed at competitive prices – we are known for providing eye-catching prints for designers and other discerning customers.
Please follow and like us: