Large Custom Stickers - 6 x 9
100% Money Back Guarantee
---
Prices from $207.95
6" x 9" finished size
Fast and easy online design and ordering
Two convenient turnaround options: next day and 3 days
---
2Select Next Step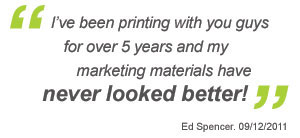 855-898-9870
Product Details
Print Large Custom Stickers and Promote in a Big Way
When you really need your message to stick, large custom stickers are the way to go! At NextDayFlyers, we know how to print stickers that will get you noticed. Our versatile, 6" x 9" stickers are printed on 60lb crack-and-peel paper. Upload your own design or create your own with our free online design tool. We make it quick and easy to configure, design, and order your stickers all from our site!


Choose us to print your full-color advertising stickers, product stickers, packaging labels, and more! We guarantee you'll love us, too, or we'll either reprint your stickers or refund your money.


Features
» Offset printing produces vibrant, bright colors
» Full-color 60lb crack-and-peel paper
» Matte coating
» Option of rounded corners
» Stickers are supplied individually for your convenience (not on a sticker roll)
---
What our customers are saying:




"You all are the best!"


Nobpa, R. San Antonio, Texas




"As a professional artist, I am always biting my nails that a project passed off to a printer will at the very least, bear some resemblance to the original work. I have no such concerns ordering through NextDayFlyers. I am extremely pleased with this latest project. Color, materials, and preparation are all perfect! I especially like that NextDayFlyers offers templates I can use to design my own work, and a friendly staff of real people to answer any questions. My job was done right and shipped quickly - well done!"


David H. Boonton Township, New Jersey




"Your staff is super helpful and we recommend you to every one! Thank you!"


Luis G. Escondido, California
---
Marketing Tips
Whether you're looking to advertise products, services, your business or yourself, a 6x9 rectangular sticker is the perfect marketing tool. Not only do they supply a larger-than-standard canvas, colorful advertising stickers are also a low-cost way to separate your brand name or ideas from the crowd of all those other messages. These large custom stickers are also ideal for product branding and packaging labels, as well as many home uses.


6-inch-by-9-inch stickers can be used by many types of individuals or businesses, such as:
When creating a promotional sticker with your name or logo, make sure you use images of 300ppi or higher. A high resolution will ensure the best print quality for your stickers, and using images that are under the recommended resolution may make your sticker design appear blurry or fuzzy. And when printing logos or messages, choose a font that not only aligns with your business, but that's also legible too. Take advantage of the amount of space and print your text big so it's clear and easy to read.


Large 6x9 stickers have a variety of uses for both promotional and informational purposes. Companies, non-profits, and associations can print their logos and slogans on stickers, which can be given away at local community events or as a "thank you" for donations or contributions. Supporters of unions, local politicians, or community organizations are often proud to promote causes that are important to them, so give them stickers to display at their shops, offices, and other places. Stickers can also be used as a quick and easy way to brand products – place them on shipping boxes, use them to seal presentations and packages, or stick them on blank gift bags.
Next Step:
Digital Specs
Upload Your Design Now!
Large Custom Stickers - 6 x 9 templates