Print Custom Stickers - 2.75 x 8.5
100% Money Back Guarantee
---
Prices from $126.95
2.75" x 8.5" finished size
Fast and easy online design and ordering
Add a high gloss UV finish to provide extra protection
---
2Select Next Step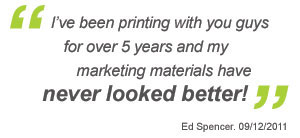 855-898-9870
Product Details
Print Your 2.75" x 8.5" Stickers with Us
Popular 2.75" x 8.5" stickers are a proven way of getting your message out to a wide audience. Print custom stickers with NextDayFlyers and be confident that you've chosen a sticker manufacturer with a commitment to quality. Our high-quality printing presses output beautiful color stickers on 60# matte paper with easy crack and peel adhesion.


You can choose from multiple rounded and squared corner configurations for a customized look. Add a glossy UV coating to your sticker for extra protection from the elements. We also guarantee the quality of our orders.


Features
» Print custom stickers in color with optional UV finish
» No sticker printer works harder for your business
» Finished size of stickers is a generous 2.75" x 8.5"
» Stickers are printed with turnaround times of next day and 3 day printing.
---
What our customers are saying:




"Great service and great products - what more can be said!!"


Gerald S. Philadelphia, Pennsylvania




"Thank you again for your professionalism and quick turn-around."


Albert P. Artesia, California




"The product looked great and was prepared and shipped to me quickly, and customer care was very helpful when I had a couple of questions. It was exactly what I wanted, and I was pleased with the quality and price!"


Laura F. Indianapolis, Indiana
---
Marketing Tips
Stickers can go viral and become as much a part of the culture as television ads. One way to help your sticker go viral is to come up with a great slogan. Just like on the web, you're looking to hook viewers into the social element of stickers. A great slogan encourages others to participate through repetition; people adopt the slogan as their own and repeat it by placing it on their own vehicle or other property.


A great slogan can be a question, a proclamation, or an exclamation. The key is that it be short and catchy. You want others to see it and respond mentally by saying, "Me, too!" Print custom stickers in contrasting colors to makes your message easy to see. Our sticker printer and sticker paper handle color exceptionally well, so your printing project will always come out looking sharp.


If you're a large organization and need to place a big order with a fast turnaround, we can handle your order! Chat with us live or call us with your special order requests. Choose a sticker manufacturer with great service – choose NextDayFlyers.
Next Step:
Digital Specs
Upload Your Design Now!
Print Custom Stickers - 2.75 x 8.5 templates